---
INT. BODYBUILDING AND FITNESS ORGANIZATIONS - DSc. Edmundas Daubaras - 05-11-2005

A FEW MONTHS AGO IN THE RUSSIAN LANGUAGE WE PUBLISHED IN MANY EAST EUROPE INTERNET PAGES INFORMATION ABOUT THE MAIN INTERNATIONAL BODYBUILDING AND FITNESS ORGANIZATIONS. THE REACTION IS SO BIG THAT WE DECIDED TO DO THE SAME IN THE ENGLISH LANGUAGE TOO.
EVIDENT THAT EVEN HEADS OF MANY NATIONAL FEDERATIONS DO NOT KNOW ANYTHING ABOUT THEIR INTERNATIONAL ORGANIZATION THEY ARE REPRESENTING. SPORTSMEN DO NOT KNOW ANYTHING AT ALL.
LET US DISCUSS IT IN OUR FORUM!


---
- SasaG - 05-13-2005

Greetings from Croatia!

First off all I'm thankfull for the forum in english :)

There is a lot that I have to say. Situation in Croatia is not really ok. We currently have 3 opposing sides and few of us who are dreaming of normal federation with sport of fitness and bodybuilding as its primary goal. A year ago, Mr.DAMIR PERKOV introduced WFF to me.

As an ex compettitor and eternal optimist I saw in WFF a new chance for our way of life. After few interviews and a lot of asked questions I discovered that there are some 10-15 competitors that are really interested in competing within WFF. There could be even more but our major (but not officialy recognized) national federation recently sanctioned few competitors who went competing within IBFA!!!!

So I can say there is a slight feeling of fear within our ranks.

How can we get any kind of help from your side in way of registering a national federation that has support from WFF?

Thank you

With Respect,

Sasa Grosic


---
- DSc. Edmundas Daubaras - 05-13-2005

DEAR FRIENDS,
THERE IS A LOT OF MESS AROUND IN ALL INTERNATIONAL ORGANIZATIONS AND IN ALL WORLD OF SPORT AS WELL. WE HAVE EXPLAINED IT IN THE RUSSIAN LANGUAGE AND OUR EXPLANATIONS WERE SENSATIONAL IN ALL RUSSIAN SPEAKING WORLD OF BODYBUILDING AND FITNESS.
TOMORROW I AM FLYING ABROAD TO TAKE PART IN A BIG INTERNATIONAL FITNESS EVENT AS A WFF OFFICIAL PERSON. WHEN BACK, WE WILL DISCUSS ALL ARTICLES IN ENGLISH LANGUAGE. THE WORLD OF SPORT SHOULD KNOW ABOUT THE FEDERATIONS WHERE THEY PARTICIPATE! WE SEE EVIDENTLY - NOBODY KNOWS THE DETAILS.
BY PROFESSION I AM A LOWER. WE WILL HELP YOU IN REGISTRATION - DO MAXIMUM WE CAN.


---
- DSc. Edmundas Daubaras - 06-02-2005

MAIN INTERNATIONAL FITNESS AND BODYBUILDING ORGANIZATIONS
SHORT NAME ORGANIZATION JURIDICAL STATUS
IFBB - INTERNATIONAL FEDERATION OF BODY BUILDERS - PRIVATE PROPERTY
NABBA-INT. - NATIONAL AMATEUR BODY BUILDING ASSOCIATION - INTERNATIONAL - NOT REGISTERED. Only logo registered
NABBA-INT. (NABBA-2) - NATIONAL AMATEUR BODY BUILDING ASSOCIATION - INTERNATIONAL - PRIVATE PROPERTY.
WABBA - WORLD AMATEUR BODY BUILDING ASSOCIATION - PRIVATE PROPERTY
WFF-INT. - WORLD FITNESS FEDERATION INTERNATIONAL - NOT REGISTERED. Only logo registered
WFF EH - WORLD FITNESS FEDERATION EASTERN HEMISPHERE - INTERNATIONAL SPORT ORGANIZATION
FAME - FAME, PAGEANT, AMERICA PAGEANT - PRIVATE PROPERTY
MS.FITNESS - MS.FITNESS - PRIVATE PROPERTY


---
- DSc. Edmundas Daubaras - 06-02-2005

OFFICIAL LIFE

Some well known sport organizations still are not juridicaly registered – they have no Registration Certificate, no stamp, no bank accounts, no book-keeping documents. It takes great efforts to make any official work. IFBB President Mr.Ben Weider called unregistered organizations "a group of friends".

NABBA UK is registered as "public club". This "public club" organizes annual "Universe" contest from 1948.

Twenty years ago appeared NABBA-International (NABBA-1), which still has no registration (only logo is registered). All financial operations (sponsorship, collecting annual fee) are illegal.

After NABBA split in 2000 one more NABBA (NABBA-2) was registered as a private property.

WFF-International has no juridical registration (only logo is registered).

WFF-International EH is a registered International Sport Organization (registration No. 00806420).
A numerous group of countries in 1998 organized the International Congress, established WFF logo (logo is used from 1998 WFF World Championship), prepared the Constitution, Judging Rules, prepared elections of the Executive Council and the President. Though the organization is registered as WFF (World Fitness Federation), in order to be different from the unregistered WFF, they use the name the as WFF EH (Eastern Hemisphere).
WFF EH organizes annual Continental (Europe) and World Championships for the amateur athletes and World Championship for the professional athletes.
At the same time WFF EH organizes annual International Seminar of Trainers and Jugdes, presenting them International Trainer's Certificates, International Judge's certificates, which are recognized worldwide.


---
- ANN - 06-13-2005

No doubt - when a representative of a federation goes officially, every serious organization (Ministery, Major of a City, serious press) should know everything about the organization.
What to say when the organization does not egzist?
Saying that a group of persons meet 2-3 times a year to organize contersts sounds not seriously. It does not mean organization at all! Just group of persons!


---
- DSc. Edmundas Daubaras - 06-15-2005

LITHUANIA WAS IN NABBA FOR 16 YEARS. LITHUANIA IS IN WFF FROM THE VERY BEGINNING. WE ORGANIZED 3 NABBA EUROPEAN CHAMPIONSHIPS IN LITHUANIA (1996. 1997. 1998).
THE GOVERNMENT OF LITHUANIA LOOKED UPON THESE CHAMPIONSHIPS POSITIVELY. NATIONAL OLYMPIC COMMITTEE LOOKED POSITIVE TOO. ALL THAT TIME LITHUANIAN STATE SPORT DEPARTMENT WAS ASKING US TO PRESENT NABBA-INTERNATIONAL REGISTRATION CERTIFICATE (ASKING WHAT IS NABBA IN REAL LIFE). THE OFFICIALS OF NABBA-INTERNATIONAL KEPT SILENCE, MAKING A LOT OF PROBLEMS TO US. THIS LASTED FOR MANY YEARS.
THE SAME HAPPENED WHEN WE ORGANIZED 1998 WFF WORLD CHAMPIONSHIP IN LITHUANIA. NO REGISTRATION! NABBA AND WFF DOES NOT EGZIST!!! WFF WAS ONLY IN IMAGINATION OF PEOPLE, NOT IN REAL LIFE.
DUE TO THIS NONSENCE WE DECIDED TO WORK SERIOUSLY. IN 1998 WE ARRANGED INTERNATIONAL CONGRESS IN LATVIA. WE MADE THE CONSTITUTION, JUDGING RULES, ETC. FINALY WE REGISTERED WORLD FITNESS FEDERATION - INTERNATIONAL. WISHING TO BE DIFFERENT FROM NOT EGZISTING WFF, WE NAMED IT WFF EH (EASTER HEMISPHERE).
THIS GAVE US THE OPORTUNITY TO WORK AND TO COMMUNICATE WITH ALL ORGANIZATIONS OFFICIALLY.
THIS IS HOW IT IS. THIS IS THE DIFFERENCE BETWEEN US!


---
- takas - 06-17-2005

Being unofficial resulted that the national team of Ukraine NEVER participated in the events of the non registreted WFF. Having no registration certificate, no stamp closed the doors of the Imigration Departments. That was the reason that so called "official invitations" to WFF contest were not recognized.
The only way to come to unofficial WFF contests - as personal quests to somebody (meaning the team of athletes comes to "a wedding party or to a birthday...".
And all this means INTERNATIONAL SPORT ORGANIZATION???


---
- DSc. Edmundas Daubaras - 06-17-2005

NO DOUBT - ORGANIZING ANNUAL CONTESTS MEANS GREAT WORK. UNFORTUNATELLY, THIS WORK IS NOT RECOGNIZED AND FROM THE OFFICIAL POINT OF VIEW IS WORTHLESS.
HOW THE UNREGISTERED INTERNATIONAL ORGANIZATION ("A GROUP OF FRIENDS") LOOKS IN THE EYES OF THE IOC OR ANY OTHER SERIOUS GOVERNMENTAL INSTITUTION?
PLAYING UNSERIOUS GAMES, NOTHING MORE.


---
- ANN - 06-18-2005

I see. Being unregistered the organization can not sign any official documents, contracts etc. If it does - then representing what? representing 5-6 friends from different countries? It is clear - all actions of such "federations or associations" are unofficial and have no value at all!


---
- john - 06-22-2005

for sportsmen it is nevermind - registered or not. but when i go looking for sponsors. then they may ask about federation. then having no registration and no stamp means shit!


---
- DSc. Edmundas Daubaras - 06-26-2005

1999 - NABBA SPLIT


---
- DSc. Edmundas Daubaras - 06-26-2005

OUR WFF IS VERY GLAD SEEING THE POSITIVE VIEW ON US. IN THE NEAREST FUTURE THERE ARE SEVERAL OFFICIAL MEETINGS AND NEGOTIATIONS PLANED BETWEEN WFF AND OTHER INTERNATIONAL FITNESS AND BODYBUILDING ORGANIZATIONS.


---
- ANN - 06-26-2005

I think speaking and negotiating is always better than fighting. Unfortunately some presons prefer fighting.


---
- john - 06-28-2005

Not enough brains to live in peace!


---
- DSc. Edmundas Daubaras - 07-12-2005

LAST WEEK IN ITALY WE MET A LOT OF NEW GOOD FRIENDS. AMONG THEM - DIRK KAU. AT LAST WFF HAS A REAL REPRESENTATIVE IN GERMANY! NAC IS A REGIETERED ORGANIZATION AND - COMPARING WITH OTHERS - HAS GREAT FUTURE.
FOTO: EDMUNDAS DAUBARAS, BIAGIO FILIZOLA, DIRK KAU


---
- Biagio Filizola - 07-14-2005

[img]www.ibfasport.com/fumetti/certificato-wff-piccolo.jpg[/img]


---
- Biagio Filizola - 07-14-2005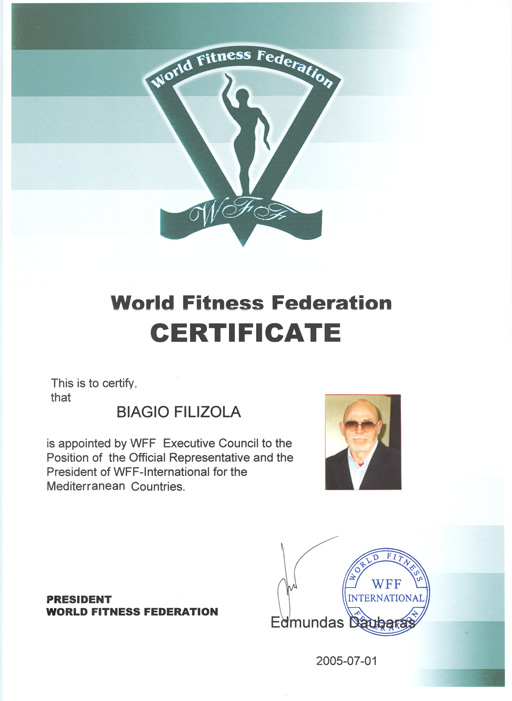 Biagio Filizola President ofIBFA (International Bodybuildinf & Fitness Association)accept the committment to promote FITNESS in the Mediterranean area.
This is going to be an important step to unify fitness.


---
- Biagio Filizola - 07-16-2005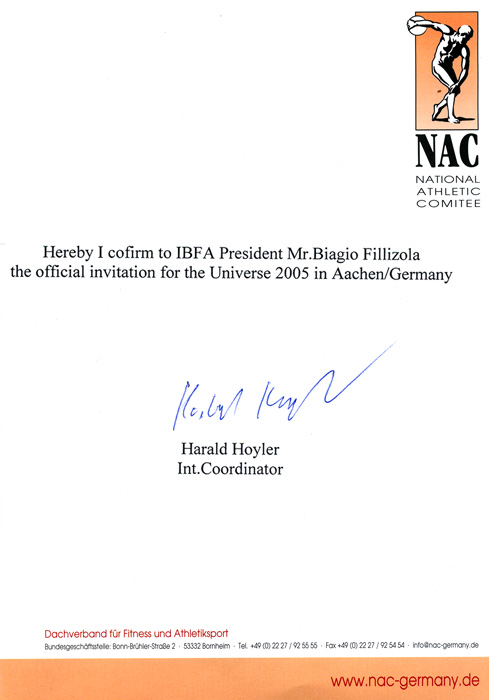 ON MARCH 18th, AT MARRIOT HOTEL IN LONDON, HARALD HOYLER AND DIRK KAU OF GERMANY, EUGENE LAVISCOUNT OF ENGLAND AND BIAGIO FILIZOLA FROM ITALY, BEGIN A COLLABORATION BETWEEN NAC AND IBFA, TO UNIFY INTERNATIONAL BODYBUILDING.



---
- DSc. Edmundas Daubaras - 07-19-2005

WE DISCUSS HERE ABOUT VARIOUS INTERNATIONAL SPORT ORGANIZATIONS. SOMETIMES INTERESTING THINGS HAPPEN. ONE HIGH NABBA OFFICIAL IS VERY HAPPY, THAT NABBA EUROPEAN CHAMPIONSHIPS IN ITALY AND MALTA WERE COMPLETELY BAD. HE IS VERY HAPPY SAYING - "I HAVE SENT NO ATHLETES TO ITALY. I WAS NOT THERE MYSELF TOO..." THE OFFICIAL IS HAPPY SAYING, THAT NABBA EUROPE IN ITALY COLLECTED ONLY 50 ATHLETES FROM 5-6 COUNTRIES AND PRESIDENT NABBA ITALY MR.MASARONI IS UPSET. A VERY NICE POSITION OF THE NABBA OFFICIAL!


---
- DSc. Edmundas Daubaras - 07-19-2005

A FEW DAYS AGO AT WFF INTERNATIONAL CONGRESS IN PALANGA (LITHUANIA) THE REPRESENTATIVE OF UKRAINE PRESENTED THE ARTICLE WRITTEN BY ONE WELL KNOWN BRITISH BODYBUILDER. I HAVE FOUND IT VERY INTERESTING - THE AUTHOR WRITES THAT ONE OF THE FOUNDERS OF NABBA - INTERNATIONAL (IN FACT -THIS ORGANIZATION DOES NOT EGZISTS AT ALL AS ORGANIZATION!) WAS A CROATIAN BODYBUILDER. HE WRITES THAT THE CREATION OF NABBA-INTERNATIONAL HAPPENED IN 1984!
YES, BUT WHO AND WHEN CREATED THIS MYSTERIOUS ORGANIZATION? WHICH NABBA? NABBA-1, NABBA-2? OR NABBA-3? MAYBE WE ARE FACED WITH A NEW NABBA-4 ????


---
- rob - 07-21-2005

what is going on with the nabba's? aged people play in kingergarten!


---
- DSc. Edmundas Daubaras - 07-22-2005

WFF INTERNATIONAL CONGRESS IN PALANGA DECIDED TO PRESENT TO THE WFF PRESEDENT OF FINLAND THE POSITION OF THE WFF OFFICIAL REPRESENTATIVE FOR SCANDINAVIAN COUNTRIES (FINLAND, SWEEDEN, NORWAY, DENMARK AND ICELAND).
MORE INFORMATION COMES SOON.


---
- john - 07-22-2005

i have seen a few international nabba web sites. are they all dreaming? which of them is more or less real?


---
- DSc. Edmundas Daubaras - 07-24-2005

TODAY WE RECEIVED A LETTER FROM NABBA MEXICO ASKING ABOUT NABBA-2 (NABBA-2 PRESIDENT IVAN DUNBAR).
OUR REPLY:
DEAR CESAR MONTANA,
I HAVE NOTHING AGAINST NABBA-2 (THERE ARE TWO NABBA-INTERNATIONAL IN FACT) PERSONALY. BUT I AM TIRED OF UNSERIOUSNESS IN IT!
WE REPRESENT A REGISTERED NATIONAL ORGANIZATION (NABBA LITHUANIA). THIS IS THE WAY TO COMMUNICATE WITH THE GOVERNMENT (THE GOVERNMENT SUPPORTS AND SPONSORS US), WITH THE NATIONAL OLYMPIC COMMITTEE. WITH PRESS AND TELEVISSION.
I AM IN NABBA 16 YEARS. THE OFFICIALS IN LITHUANIA ARE ASKING ME THE REGISTRATION CERTIFICATE OF NABBA-INT. NABBA-INT. HAS NOT GOT IT - IT IS NOT REGISTERED. WHEN I WAS TOGETHER WITH IFBB PRESIDENT BEN WEIDER FOR MANY YEARS, HE CALLED SUCH ORGANIZATION "A GROUP OF FRIENDS". NOW I UNDERSTAND THIS.
NABBA-INT. IS NOT LEGAL. NO OFFICIAL DOCUMENTS, NO STAMP, NO BOOK-KEEPING.
HOW WE (BEING OFFICIAL) CAN DEAL WITH UNOFFICIAL "ORGANIZATION"?
I REMEMBER THE TIME A FEW YEARS AGO WHEN IT WAS A "UNIVERSE" CONTEST OF NABBA-INT. THEN 3 NABBA OFFICIALS WERE COLLECTING ANUAL FEE. WHEN I ASKED - NOBODY HAD BOOK-KEEPING PAPERS. THEIR RESPONCE WAS: "I HAVE SPENT A LOT OF MONEY FOR TELEPHONE CALLS AND THAT IS THE REASON OF THIS ANUAL FEE...".
THIS IS NOT SERIOUS.
WE NEED TO GO THE OFFICIAL WAY RESPECTING THE LAW.
THERE ARE LOTS OF REASONS WHY WE LEFT NABBA IN 1998. A LOT OF MESS AND INTRIQUES INSIDE IT TOO. FROM 1999 WE STOPPED BRINGING NUMEROUS TEAMS TO NABBA "UNIVERSE'. "UNIVERSE" - IT IS THE CONTEST OF NABBA UK, NOT OF NABBA-INT. NABBA-INT HAS NOTHING TO DO WITH IT.
AT THE SAME TIME THERE ARE SUCH THINGS INSIDE NABBA, THAT IT WILL BE BETTER NOT TO SPEAK. THEN YOU WILL LEAVE NABBA AT ONCE TOO!
YOUR FRIEND,
EDMUNDAS DAUBARAS


---
- rob - 07-24-2005

i see only ifbb and wff work with governments.


---
- DSc. Edmundas Daubaras - 07-24-2005

AT THE SAME TIME THERE ARE MANY GOOD PEOPLE IN ALL THREE NABBA'S! EVERY YEAR WE WERE COMING TO NABBA CONTESTS TO HAVE GOOD TIME AND RELAX AND TO MEET OLD GOOD FRIENDS.
UK IS A VERY NICE AND FRIENDLY COUNTRY. WE LIKE TO VISIT LONDON AND STAY THERE FOR A FEW DAYS EVERY EYAR.
BUT DEALING THE OFFICIAL WAY WITH THE MYSTERIOUS ORGANIZATION WHICH HAS THE OFFICIAL STATUS OF "GROUP OF FIRIENDS" IS THE KINDERGARTEN PLAY.
OFFICIAL RELATIONS ARE DIFFERENT FROM THE FRIENDLY ONES!


---
- DSc. Edmundas Daubaras - 07-24-2005

AMONG ALL THREE NABBA'S ONLY NABBA UK (AS A NATIONAL ORGANIZATION, REGISTERED AS "PUBLIC CLUB") IS SERIOUS. NABBA UK ORGANIZES "UNIVERSE" CONTEST FOR MANY YEARS. MANY WELL KNOWH ATHLETES COMPETED IN NABBA "UNIVERSE".
BUT NABBA UK HAS BIG INSIDE FIGHTS NOW. IT MAKES IT WEEK AND UNSTABLE.
AT THE SAME TIME GOVERNMENTS AND SPORT OFFICIALS RECOGNIZE ONLY THE OFFICIAL CONTESTS: THE WORLD CHAMPIONSHIP, THE CONTINENTAL (EUROPE) CHAMPIONSHIP. THEY DO NOT RECOGNIZE AND THEY DO NOT UNDERSTAND "UNIVERSE" CONTEST. WHAT IT IS? ALWAYS WORLD CHAMPIONSHIP IS IN THE HIGHIEST RANKING POSITION. DOES "UNIVERSE" MEAN SOMEBODY FROM THE MOON PARTICIPATING?
THE HIGH SPORT OFFICIALS SAY - THOUGH WITH THE NICE OLD HISTORY "UNIVERSE" IS AN ORDINARY INTERNATIONAL CONTEST OF THE NATIONAL NABBA UK. THE HIGHIER OF THE WORLD CHAMPIONSHIP IS ONLY OLYMPIC GAMES.


---
- john - 07-24-2005

it is goog when everybody knows about the federation where he participates!


---
- DSc. Edmundas Daubaras - 07-24-2005

THIS FORUM IS AN OPEN DISCUSSION FORUM. WE ARE NOT HIDING US UNDER NICKNAMES. LET US SPEAK AND SHOW THE PUBLICK WHO IS WRIGHT AND WHO IS CORRECT!
WE HAVE MUCH INFO ABOUT ALL INTERNATIONAL SPORT ORGANIZATIONS, ESPECIALLY ALL NABBA'S.
JOIN OUR OPEN DISCUSSION!
EVEN IF SOME OF YOU ARE AFRAID OF THE OPEN DISCUSSION, OK, SPEAK UP UNDER YOUR NIKNAMES.
WE DO NOT DOUBT IN WHAT WE ARE SAYING AND IN WHAT WE ARE DOING.
SPEAK UP!


---